Doctor Profile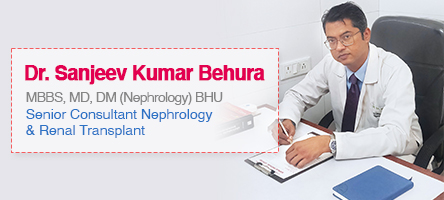 Areas of Expertise:
Dr Sanjeev Kumar Behura is an alumini of prestigioug Banaras Hindu University(BHU) from where he has done DM in Nephrology. He has had an outstanding academic record as medical graduate. Dr S.K.Behura has to his credit various publication in indexed national and international journals (JAPI, SJDT, LUPUS, HKJN). He has presented research papers in various national and international conferences. He is a member of Indian society of Nephrology, Indian society of organ transplant and prestigious European renal association (ERA-EDTA).

Dr S.K Behura has spent considerable time in teaching MBBS, MD, Dialysis technician students and PhD students. His area of expertise lies in managing acute renal failure, Diabetic kidney disease, Dialysis patients and geriatric nephrology. He has been involved with renal transplant since 2005. He has attained perfection in insertion of dialysis catheter (Femoral, IJ, Subclavian) Perm catheter, Kidney biopsy, and CAPD catheter. At various periods in his professional career, Dr.Sanjeev Behura has been associated with Apollo hospital, Max hospital, Fortis Healthcare, Davita nephrolife, St Stephen hospital, Primus hospital and Rockland hospital.
Academic Appraisal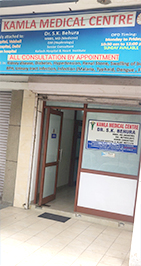 HIGHLIGHTS OF PROFESSIONAL CAREER:
1. Instrumental in setting up dialysis and nephrology services in primus hospital and initiated renal transplant program in primus hospital (Indian and international patients)
2. Senior consultant at kailash hospital (Noida).
3. Managing actively running dialysis unit at Kailash hospital.
4. Procedures done at Kailash: Hemodialysis, SLED, Peritoneal dialysis, Kidney biopsy, Internal jugular and subclavian catheter insertion.
5. Plasmapheresis started at Kailash hospital, Noida.
6. Renal transplant started at Pushpanjali Crosslay Hospital, Vaishali,Ghaziabad.
7. First international patient transplant done at Pushpanjali Crosslay hospital, Vaishali.
8. Percutaneous CAPD insertion program started at PCH
9. Perm catheter insertion done at Kailash hospital and Pushpanjali crosslay hospital.
10. Acute Peritoneal dialysis for infants and children.
11. CRRT, SLED